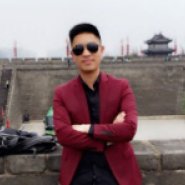 Frank Chen
Explore the beauty of nature and experience the local culture in ZJJ!
Book a Tour
1042 Points
Member for 8 years 11 months
$10
Per Hour |
$75
Per Day
Gender

: Male

English

: Fluent

Transportation

:Private bus, Private car/van, Public transportation

Services

:Tour guide, Business assistant, Shopping assistant, Car rental, Airport/train station pickup, Ticket booking, Hotel reservations
Email:

[email protected]

Other Contact Info:

Frank Chen is a verified Synotrip tour guide, feel free to email us to talk to him!
About Me
Frank Chen, a local guide in Zhangjiajie, with a guiding experience for 7 years, has offered excellent service for hundred of English speaking travelers and groups from the whole world. At the same time, I am also a trip advisor in Zhangjiajie CITS.
Do you want to enjoy the real beauty of spectacular landscape and experience the colorful local culture in Zhangjiajie? do you want to have a tour which can keep you away from the groups but with nice sceneries? or do you want to have a unique sunrise tour in Zhangjiajie National Forest Park...... please don't feel hesitate to contact me, I always provide tailor--made itineraries for you according to your requirements. Now follow me to discover the mystery of Zhangjiajie on your own way.
The unique and popular tours I can design:
1, Zhangjiajie Classic Sunrise & Sunset Tour.
2, Zhangjiajie--Tianmen Mountain--Fenghuang Tour.
3, Zhangjiajie AVATAR Experience Tour.
Why choose me?
A, Tailor-Making: I design itinerary according to your requirements, make last minute changes even on the tour.
B, Valuable & Comfortable: I provide a variety of services and can gain the best value for your money.
C, Knowledgeable and flexible.
Contact Me
September 23, 2019

my mom and i did a 2 day priva-te tour with Frank and we need to say it was awesome! Frank is very punctual and professional. He knows exactly how not to waste time with queues because he best organizes the spots you want to visit. He knows the best views of each place, the best places for a perfect photo. He is very attentive and cares all the time to see if everything is ok. He was very careful with my mother.

...read more

April 21, 2019

We are a family of 6 adults who traveled to Zhangjiajie and Fenghuang in mid April 2019. My mom is 60+ years old. Frank is a very experienced, knowledgeable and organized tour guide. He arranged a great and responsible driver Mr. Hu with a 14-seater van to pick us up from Fenghuang to Zhangjiajie. It was such a great idea to have a tour guide to visit Tianmen Shan and ZJJ National Forest Park as a first-timer to Zhangjiajie Wulingyuan areas.

...read more

August 30, 2018

Contratamos un tour de 6 días con Frank por Zhangjiajie y Fenghuang. Fue todo un acierto. Educado, puntual y gran conocedor de la zona. A pesar de las multitudes pudimos disfrutar del parque sin aglomeraciones gracias a su buena organización. Nos ayudó con nuestras dudas antes de llegar. Su inglés es perfecto y siempre es amable y educado. En todo momento pendiente de nuestras necesidades. Gracias Frank

August 28, 2018

I visited Zhangjiajie with my mum and aunts and we had a wonderful time. We were there for 4 days and enjoyed each one and saw many beautiful places. Frank is very knowledgeable about the area, he was very informative right from the moment he picked us up from the airport! Can communicate well in English and he's very open, easy going and funny. The hotel Frank recommended for us was also wonderful, good service, helpful staff.

...read more
Frank Chen's
Articles & Attractions