"I will be your GPS, as well as an old friend during your trip"
Chengdu, Lhasa, Sichuan Province, Tibet, China

Profile viewed 39345 times
Contact Me

Fee Per Hour:

$7

Fee Per Day:

$47

Gender:

Female

Transportation:

Private car

Public transportation

Bicycle

English Level:

Fluent

Services Provided:

Tour guide

Interpreter

Business assistant

Shopping assistant

Car rental

Airport/train station pickup

Hotel reservations

Phone Number:

+86 186-2888-8686

Other Contact Info:

aline.guide@gmail.com
qq: 799659029


133 points
Member for 2 years 12 weeks

About me:
Hello,
nobody likes to be treated as tourist when travelling althrough we are tourists, when I travel, I would like to go to communicate with the local people, to see the local market, to know the local lifeof the people, but not just go to some sightseeing places and take photos, get on the car and leave. we Chinese people have an saying: " Do not do to others what you would not have them do to you" , so I will not let you suffer this.
I am a freelance Chengdu guide. I am also a tour leader, I take Chinese people to other countries also, I have traveled to many countries. I do know what do you need when you are travelling I am from minority area . I know my culture and people very well, I can provide you what exactly you want to see and know.
as a guide , I have the following characters:
knowledge, responsibility, flexible, professionalism
many of my clients find I am like an old friend here, but for me I would never treat my clients as friends during the trip,
because , I am working, you are playing, I am providing service to you, after the trip, yes we can become friends.
the routines I usually guide is :
1 Chengdu Panda Base-Chengdu city explore ( Jinli Street, Wenshu Monstery etc)
2 Chengdu-Leshan Giant Buddha-Mt.Emei( Emeishan)-Yibin Bamboo Forest
3 Chengdu-Ya'an Bifengxia Panda Base
4 Chengdu-Jiuzhaigou-Huanglong
I have fluent English, I have helped rum factories from all the world do the translation on the Rum exbition held in
Chengdu yearly. I can be a businiess asisstant such as: help to find a supplier, raw material, OEM factories. I have helped suit companies to find suppliers in Chengdu local factories.and I have helped wine factories from Europe to find customers
beside , I also teach Sichuan cooking.
hope you could enjoy your trip with me ~
Book a tour with aline.guide
Reviews of aline.guide
Author:
ajohansen
When traveling in China you have three options, travel on your own (although you will never be alone), be herded by the Chinese tourist industry (and it is an industry) or benefit from the services of Aline and her network of independent; but highly skilled and licensed, tour guides.
If you chose to join Aline and her friends, you will get the option to follow your own path, see the things your dreamt of and things you never dreamt of. Like you will get close to Sichuan, its history and its very friendly population. You will feel the pulse of the big cities, the tranquility of the remote locations, and the way people live, eat, and work.
Aline will make you feel at home like she will listen to you and take care of your needs according to your expectations, interests, abilities, and budget. Like Aline will listen to you, I should highly recommend to listen to Aline and her suggestions for things to see and experience, as she is highly knowledgeable in Sichuan culture, history and geography, among other things.
How do I know this? Because I have known Aline since my first visit in Chengdu in 2012 and, lately, she served as personal guide for my wife and I, as we visited Sichuan province in April 2012. I can say that it was a very positive experience to enjoy the hospitality and professionalism of Aline and her friends (and our drivers) Jugo and Hu, personally selected by Aline for our comfort and safety. We are already longing to visit Sichuan again.
Lene and Anders (DK)
Author:
dlf_perth
Aline Xiang - English speaking Chengdu guide.
Toured around Chengdu CBD on a half day tour with Aline in March 2013.
We really enjoyed ourselves and found Aline a very lovely person to spend the afternoon with. We also tried some interesting food and got some good suggestions on places to eat and see.
Aline was one of two guides used in Chengdu and we were attracted to her due to her interest in food and food culture. In this respect Aline definitely met our expectations. We wanted to see the local side of Chengdu and we wanted one of the classic teapots at less price than that charged at the hotels and tea houses !!
We visited the Chengdu tea market and the produce market and it was a very unique experience. The tea market was good and we enjoyed a sit down tea tasting after selecting our teapot. In the produce market Aline knew all about the various ingredients, spices etc and it was an amazing experience for our western eyes !! This is well off the traditional tourist circuit and we had a great time, even experiencing a bus trip when taxi were hard to come by at one point. We also included the Jinli area and a walk around the river area near our hotel, and made a few purchases where Aline was very helpful in determining whether the price was reasonable or not.
When first enquiring with Aline she was only available on one of our days, but happily offered to organise a friend if we wanted to go out on the other days.
This service may be useful particularly during busier times when finding guides for small/short tours can be a little harder.
Recommend Aline as a professional and well informed guide. We felt we received very good value and we had some good fun with Aline who definitely has a big heart and great personality. [we communicated directly via aline,guide email rather than via web page and paid cash on day]
Author:
TanLB
In 24th. November, 2012, we enjoyed the delightful and cheerful guide services of Aline Shawn, one of a young lady from China. She was very fantastic, energertic and very-very active lady. She substituted for the guide I initially hired and were not present and our family trip could not have been more pleased. Aline Shawn was knowledgeable, adaptable, and thoughtful far beyond my expectations, and we can really rely on her.
I hired Aline to provide private guide services for 7 days in Chengdu and the surrounding area far form the city. She arranged all public transportation and entrance fees, and even offered complimentary after hours. 7 tour days finished well into the evening after most guides would have been home long before. She is a relentless pursuer of customer satisfaction. She was also candid in her viewpoints regarding the highlights of various sightseeing areas.
When I return to the area to tour further, I only hope I can still book Aline Shawn - and that is as word spreads, it will be harder to find an opening in her guide schedule.
From,
Tan Lee Bih
+60127509228
http://my.shop.88db.com/agensipekerjaantanleeb
aline.guide's Tours
Price:
20USD/Person
Dates Available:
Nov 04, 2012
-
Feb 28, 2015
morning pick up from your hotel .
first to the local vegetable market to buy vegetables ,meet and fruit you like .
in Aline's kitchen
first you watch the chef cook, then you cook yourself , chef will guide you beside.
dishes you can choose:
1. dumplings and Won Ton making
2. Ma Po Toufu
Price:
150USD/Person
Dates Available:
Nov 01, 2012
-
Jan 31, 2015
Day 1: Chengdu-Leshan
morning drive about 2.5 hours to Leshan, walk in the Lingyun mountain to see the Leshan Giant Buddha. about 3 hours in total. or take the boat to the foot of the river to see the giant Buddha
after Giant Buddha drive about 40 minutes to Emeishan. night stay in Emeishan
Day 2: Emeishan
Price:
50USD/Person
Dates Available:
Nov 01, 2012
-
Jan 31, 2015
morning drive about 1 hour to the village in the countryside, the town is called Pixian .
walk in the farmland, talk to the farmers to know their life and the plants. go to farmers' home and learn to play Marjiang.
have lunch with the farmers' family.
aline.guide's Photos
aline.guide's Content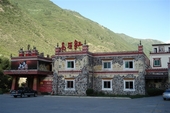 Address:
Lhasa,Tibet,China
Abu Dhabi International airport is located in the capital of the United Arab Emirates:Abu Dhabi . the airport is still expanding, costs $68000000000.
Address:
31, Jungmungwangwang-ro110beon-gil, Seogwipo-si, Jeju-do
Price:
* Adult 7,000 won / Group 5,000 won
Teddy Bear Museum was built to showcase hundreds of years by the people around the world who love teddy bear. Teddy bear produced in the world can be seen in the two exhibition halls. Visitors also can see the sea in the museum shop, West restaurant, outdoor park a wonderful time.

Singapore's Changi International Airport, covering an area of 13 square kilometers, 17.2 kilometers away from the city. Changi Airport is a major civilian airport in Singapore, but also an important aviation hub in Asia. Code words for SIN.
Address:
Jinjiang District Binjiang Road No. 15 Sofit Wanda Hotel
Sofitel Wanda Chengdu
Chengdu hotel address: Jinjiang District Binjiang Road 15
The commercial areas: downtown Cultural District
Nearby attractions: the Funan River, Tianfu Square, Chunxi Road
Opening time: since the year of 2003
Room number: 262
Address:
Sichuan Province High-tech Zone of Chengdu Century City Road 88
InterContinental Century City Chengdu
Hotel: five star
Hotel Address: Sichuan Province High-tech Zone of Chengdu Century City Road 88
Address:
Jinjiang District Plaza Hotel Chengdu Street No. 31
Address: Jinjiang District Plaza Hotel Chengdu Street No. 31
The surrounding landscape: Wenshu Wuhou Temple Museum exhibition pedestrian street in Chunxi Road Tianfu Square
Adjacent: from Chengdu Shuangliu International Airport 20 km 10 km from the train station 0.5 km from Chunxi Road
Contact aline.guide Now